Film
Boonie Bears: Entangled Worlds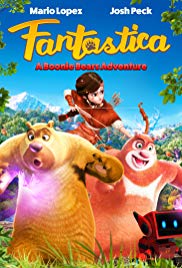 Povzetek:
U čarobnoj šumi u zemlji zvanoj FANTASTIKA, dva medveda, Boža i Luka krenuli su u spasonosni pohod da sačuvaju šumu od zloglasne bande lopova koji su namerili da pronađu i ukradu zlatne rogove. Na tom putu susrešće se sa mnogim čudnim i predivnim stvorenjima.... Ali vreme ističe! Ko će prvi do zlatnih rogova? Da li će uspeti da spasu svoj animirani svet?!
Poglejte podobne vsebine
Komentarji
Flora je cirkuski slon koji više ne može da nastupa. Noć pre zakazane eutanaze, 14-godišnja kćerka vlasnika cirkusa krade Floru iz cirkusa. Pred njima je dvesta kilometara šuma, divlja reka, dva...

Porodica Jack odluči udomiti psa. Maleni Danny izabere jazavičarku Shelly ne znajući da je pred njima prava svetska šampionka. Prirodno talentovana, Shelly se uspeva plasirati na prestižno takmičenje...

A bitter old hermit known around town as 'Captain Crazy' reluctantly agrees to help a young orphan avoid the local bullies so long as he agrees to help him finish his half-built boat. The two...