Film
Gekijôban Fairy Tail: Dragon Cry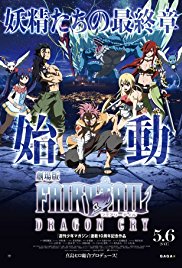 Povzetek:
"Dragon Cry" - it's a magic artifact, that power can destroy the world. For a long time she was kept in the Kingdom of Fiore, but in the end was stolen by the Kingdom of Stella. The main characters (Natsu, Lucy, Gray, Erza, Wendy, Happy and Carla) penetrate into the Kingdom on a mission undercover. In the end they will have to deal with the King Animus and his entourage (Zach and Sonya). The purpose of the Animus to enslave the world? And Sonya was secretly trying to save the country? Expect exciting adventures on the sea of intrigue and save the world.
Poglejte podobne vsebine
Komentarji
The mightiest team of mages from the magic kingdom's most infamous guild faces evil rising from the embers in this action-packed feature length adventure. Follow Fairy Tail's dream team-Natsu, Gray...

In a race against time and all odds, the revolutionary F1 racing car Ferrari 312B will get back on the Monaco circuit, 46 years later, under the wing of it's creator, the genius engineer Mauro...