Film
Jack et la mécanique du coeur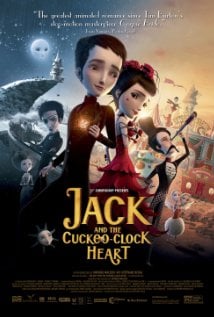 Povzetek:
Edinburgh, late 19th century. Little Jack is born on a day so cold that his heart remains frozen. Madeleine the midwife replaces his heart with a cuckoo-clock. It will work, as long as Jack follows the rules, mainly not falling in love. But his encounter with a fiery-eyed girl singing on a street corner and his decision to chase after her will test the resistance of his makeshift heart to the breaking point... Jack and the Cuckoo-Clock Heart is a magnificent love story set in an exciting period full of fabulous inventions, eccentric characters and fantastic adventures. Adapted by Mathias Malzieu from his best-selling novel and the gold-selling album by his band Dionysos, this superbly animated movie is about passion and acceptance of others.
Poglejte podobne vsebine
Komentarji (1)
Film je snimljen prema romanu autora Jeana Teulea. U jednom gradiću, ljudi su toliko očajni i život im se čini besmislen da su samoubistva postala masovna pojava. Jedini posao koji cveta je posao...

Čarobni Pariz 1910. Dražesna Emile i živopisni izumitelj Raoul nađu se usred potjere za čudovištem koje terorizira građane Pariza. Zajedno sa zvijezdom pariškog cabareta Lucille, ekscentričnim...

Melanholična dogodivščina pogumnega zajčka ali mitološko obarvana basen o otrokovem pogrešanju in vztrajnem upanju. Jan je zajček, ki živi z očetom na ladji sredi morja. Je odličen potapljač in rad...