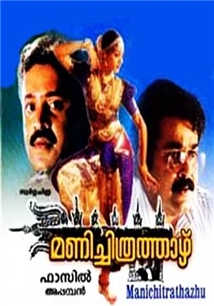 Povzetek:
Renowned Psychiatrist Dr. Sunny Joseph lives in America. He decides to travel to a town in India after he gets a distress call from his friend, who belongs to a very noble and wealthy family, to counsel and treat a female family member, who he suspects is responsible for a variety of incidents. Sunny accepts this assignment not realizing that there is another side to this tale, namely a vengeful spirit, who may not respond to his methods, and he may end up endangering everyone's lives.
Poglejte podobne vsebine
Komentarji
Georgekutty (Mohanlal) is a cable TV network owner in a remote and hilly village in Kerala. He lives a happy life with his wife and 2 girls. The first half revolves around the depiction of their...

A depressed Kathakali artist falls in love with a member of an aristocratic family.