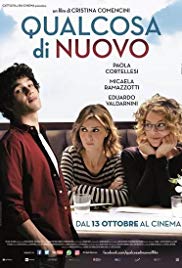 Povzetek:
Lucia and Maria are two best friends, who have known each other from the beginning of their life, but have very different tastes and behaviors. Lucia is done with men, Maria, on the contrary, cannot be without one. One night, the perfect man shows up in Maria's bed: handsome, sensible, mature and passionate.The next morning brings up misunderstandings and lies which make the two friends split up and take a break for themselves. Maybe that young man met by chance is really the one every woman is looking for, because with his simple theories he manages to paint the perfect picture of the two women's lives.
Poglejte podobne vsebine
Komentarji
Priča o susretu jednog buržuja i jedne siromašne žene, usled toga što su se njihovi potomci-tinejdžeri - verili!

Serena, priznana arhitektka s številnimi magisteriji in priznanji z vsega sveta, se odloči vrniti domov v Italijo. Tam bi rada našla ustrezno službo, a kmalu bo spoznala, da njena domovina le ni tako...