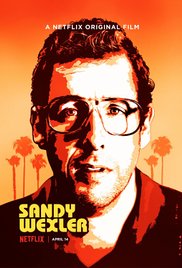 Povzetek:
Sandy Wexler (Adam Sandler) je talent menadžer koji radi u Los Angelesu tokom 1990-ih godina, te predstavlja grupu ekscentričnih klijenata sa margina estrade. Njegov predanost poslu je stavljena na kušnju kad se zaljubi u jednu od svojih klijentica, Courtney Clarke, izuzetno talentiranu pjevačicu koju je otkrio u zabavnom parku...
Poglejte podobne vsebine
Komentarji (3)
Adam Sandler i Chris Rock, nakon uspješnih zajedničkih komedija Grown Ups (2010) i Grown Ups 2 (2013), ponovno surađuju u Netflixovom filmu 'The Week Of' redatelja Roberta Smigela, s...

Gene Handsome is an LA homicide detective who tries to make sense of his life as he solves crime. Handsome's knack for solving mysteries is matched only by his inability to make sense of his own...