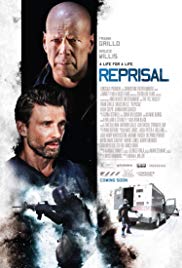 Povzetek:
Jacob (Frank Grillo), a bank manager haunted by a violent heist that took the life of a coworker, teams up with his ex-cop neighbor, James (Bruce Willis), to bring down the assailant. While the two men work together to figure out the thief's next move, Gabriel (Johnathon Schaech), the highly-trained criminal, is one step ahead. When Gabriel kidnaps Jacob's wife (Olivia Culpo) and daughter, Jacob barrels down a path of bloodshed that initiates an explosive counterattack and brings all three men to the breaking point.
Poglejte podobne vsebine
Komentarji (2)
Fans flock to a festival celebrating the most iconic horror movies, only to discover that the charismatic showman behind the event has a diabolical agenda. As festival attendees start dying off...

Kriminalistička psihologica Kate Fuller zadužena je za istragu slučaja ubistva muškarca za kojeg se smatra da je ubijen u snu od strane njegove supruge, dok je jedini svjedok njihova 8-godišnja...