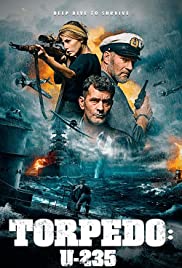 Povzetek:
During the height of World War II, commander Stan and a courageous group of resistance fighters are given a suicide mission to deliver a stolen Nazi submarine filled with atomic uranium. Hunted down by Hitler's army, the motley crew must outwit and outmaneuver relentless German destroyers and more powerful submarine killers which will stop at nothing to send the U-boat to the bottom of the ocean before it reaches safe shores in America.
Poglejte podobne vsebine
Komentarji (5)
Normalan život jednog Njujorčanina biva prekinut kada Bugarska mafija ubije njegovu devojku. On beži u Pariz da bi se sakrio od njenih ubica. Ali tri godine kasnije na velikom platnu on vidi ženu...

Tijekom 2017/2019 Depeche Mode započeo je svoju Global Spirit turneju, u okviru koje su nastupili pred više od 3 milijuna obožavatelja na 115 koncerata širom svijeta. Ovaj novi vizualno upečatljiv...

Three British women from London, consisting of a YouTuber and her two friends, go missing from a motel in California while travelling from Los Angeles to San Francisco after posting on social media...