TV serija
Aseudal Yeondaegi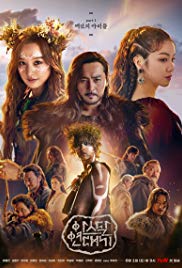 Naslov:
Aseudal Yeondaegi
Leto:
2019
Zvrst:
drama
Povzetek:
Eun Som, a cursed child born in Blue Stone Village under an ominous sign. He later becomes a conqueror of Asadal, taking it from city-state to empire. Ta Gon, a war hero among the Saenyeok Tribe and master of strategy. He is ambitious and aims to become the first King of Asadal. Tan Ya, a woman born under a cursed sign who overcomes adversity to become the first female politician of Asadal. She is Eun Som's first love. Tae Ha, the last surviving neonatal, a race different from humans, as well as the first Empress of Asadal.
Poglejte podobne vsebine
Komentarji
The Survival Game begins and Shura is the first to fall. The Shandians split and Wiper meets Luffy. Enel sends the 50 Sacred Warriors. Gan Fall teaches Sanji, Nami, Usopp and Chopper about the power...

Južnokorejska horor serija radnjom se koncentriše na invaziju zombija tokom korejskog srednjevjekovnog razdoblja Joseon. Prati putovanje jednog princa-prijestolonasljednika koji želi da spasi svoj...

Godina je 2092. Tae-Ho (Song Joong-Ki) je pilot svemirskog broda "Victory", spreman na sve kako bi zaradio još novca, ali je uvek bez njega. Tiger Park (Jin Seon-Kyu) i robot (Yu Hae-Jin) su članovi...