TV serija
Awkwafina Is Nora from Queens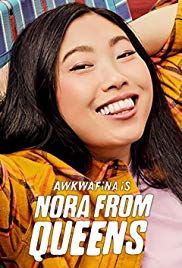 Naslov:
Awkwafina Is Nora from Queens
Leto:
2020
Zvrst:
komedija
Trajanje:
30 min
Autor:
Awkwafina
Povzetek:
With help from her dad and grandmother, Nora Lum navigates young adulthood in Flushing, New York with her cousin.
Poglejte podobne vsebine
Komentarji
Serija 'Mala Amerika' je navdihnjena z resničnimi zgodbami, objavljenimi v 'Epic Magazine', v katerih oživljajo zabavne, romantične, srčne in presenetljive zgodbe priseljencev v Ameriko. Prvo sezono...

Centers on Nicholas (Josh Thomas), a typical 25-year-old still living at home with his single dad and two teenage half-sisters, who is not particularly helpful in raising his siblings, one of which...

In this docuseries, meet the heroes on the front lines of the battle against influenza and learn about their efforts to stop the next global outbreak.