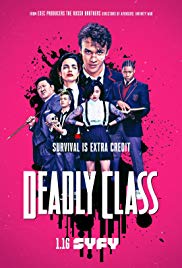 Povzetek:
Serija prati Markusa (Benjamin Wadsworth), tinejdžera koji je živeo na ulici dok ga nisu vrbovali iz Kings Dominiona. Kings Dominion je vrhunska privatna akademija gde svetski kriminalci šalju svoje potomke na školovanje. Od velikog značaja biće da Markus zadrži svoj lični moralni kompas dok bude suočen sa ubistvenim gradivom i opakim društvenim grupama.
Poglejte podobne vsebine
Komentarji
The story of the real-life, U.S. Air Force-sponsored investigations into UFO-related phenomena from 1947-70.